Visiting a restaurant via boat is one of the many perks of boating, and within our three Freedom Boat Club locations there are so many excellent places to "dock-n-dine."
Freedom members love our local boat-friendly restaurants and so do I. Where is your go-to spot for dinner with a view?
Here's a list of our favorites!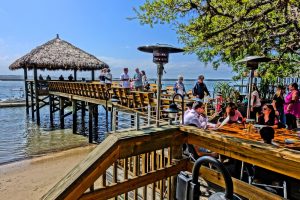 Cap's on the Water: "Cap's is widely recognized for its incredible location and views. In fact, Cap's has been voted "Best Outdoor Dining" on numerous occasions. After watching just one sunset on our deck beneath the trees you will understand why." www.capsonthewater.com/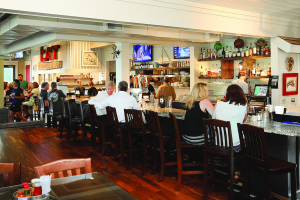 Julington Creek Fish Camp: "Our Spacious interior and outdoor patio seating create the perfect atmosphere for enjoying a wonderful meal along the banks of Julington Creek. With Julington Creek, their elegant-but-relaxed approach to dining to another one of Jacksonville's waterside neighborhoods. We want to be your go-to destination for enjoying the Southern Fare cuisine of North Florida's Waters" https://julingtoncreekfishcamp.com/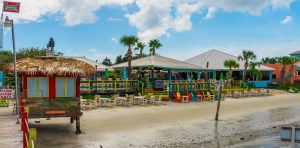 Beaches @ Vilano: "Beaches is known for having great food, signature drinks, the best sunsets in St. Augustine and the only place where you can dine with your toes in the sand and listen to live music every weekend, located in between the Vilano Bridge and the pier, with plenty of parking and a large dock for easy boat access. https://www.beachesatvilano.com/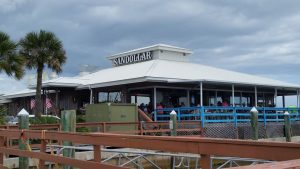 Sand Dollar Restaurant- "Come for the seafood, stay for the view!" Sand Dollar is a veteran riverfront destination for locally caught seafood & steaks, with a patio hosting live music. It offers a casual dining experience with an intimate view of the St. Johns River as it flows into the Atlantic Ocean. Visit them today! https://www.sandollarrestaurantjax.com/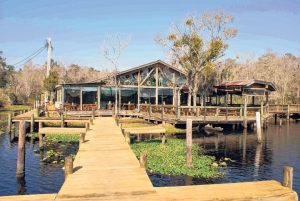 Clarks Fish Camp: If you're looking for a unique dining spot, Clarks won't disappoint! "Rumored to be one of the largest privately owned collections of taxidermy in the country, Clark's menagerie of preserved animals includes lions, tigers, monkeys, bears, giraffes, deer, bobcats, and a flock of birds that gaze eerily at guests." They also have some great seafood, prime rib and exotic meats with a view. Visit them for an unforgettable experience: in the bar area and dining rooms."http://www.clarksfishcamp.net/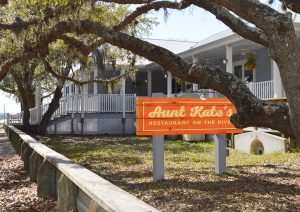 Aunt Kate's: "Continuing over 100 years of serving the finest in local seafood, Aunt Kate's pleasures both the eye and the palate." They offer an outstanding selection of quality family dining and a view of the Tolomoto River. So come tie up to their floating dock, and stroll on over from the North Beach Camp Resort right next door! https://aunt-kates.com/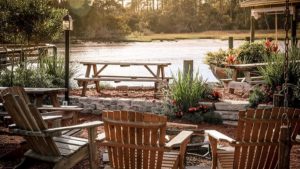 Lulus Waterfront Grill: For a wonderful view of the Intracoastal Waterway and excellent seafood, visit Lulu's! With Trip Advisor's 2019 Certificate of Excellence, you will "enjoy dining on the water while watching occasional boats pass by, seeing dolphins or catching the sunset as it glistens across the water." Visit them for your next happy hour or seafood craving! https://www.luluswaterfrontgrille.com/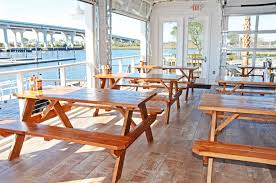 Safe Harbor Seafood: "Safe Harbor Seafood Restaurant is perched along the east edge of the Jacksonville Beach Boat ramp where you're entertained with views of the majestic marsh and lively boating scene. Experience a casual setting that boasts the high-quality, fresh seafood" Located across from our Jacksonville Beach location, our staff can tell you how awesome their fried shrimp is for lunch! https://www.safeharborseafoodrestaurant.com/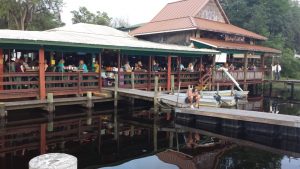 Whitey's Fish Camp: Located near our Julington Creek location, members love visiting Whitey's for some local seafood and a refreshing drink. With weekly events, great happy hour deals, and live music on weekends, there's no reason not to visit Whitey's on your next boat day! Just remember, boat safe and have fun: http://www.whiteysfishcamp.com/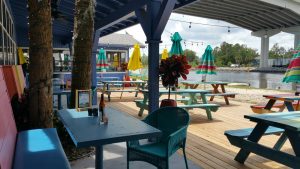 Palm Valley Outdoor Bar & Grille: Are you in need of a new dinner spot on the water? Maybe you're looking for a place to brunch… Visit our loyal partner, Palm Valley Outdoors, in Ponte Vedra Beach for your next date night or Sunday funday! They offer indoor and outdoor seating with a view of the Intracoastal Waterway as well as a variety of seafood and cocktails. Check out their website for menus, location and hours:https://palmvalleyoutdoors.com/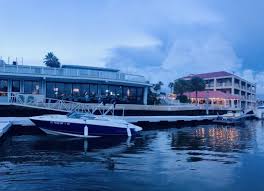 Mavi Waterfront Bar and Grill- Come see our partner Mavi, which recently opened down the road from our Jacksonville Beach location for live music, drinks, and a variety of food! Visit them for your next lunch or dinner date. Check out their website for the music schedule, menus and more:  https://mavijax.com/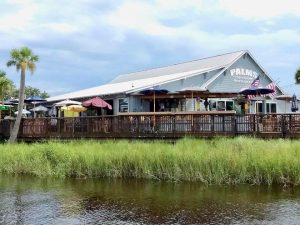 Palms Fish Camp: Looking for local seafood with a waterfront view? Visit our partner, Palms Fish Camp, for fresh catches and amazing views of the Timucuan Ecological and Historic Preserve! Check out their website for menus, events and much more:https://palmsfishcamp.com/