I will always advocate going on a boat day when you're feeling down, and now I have science to prove it! What does boating do for your health? Well, there are a plethora of benefits associated with boating and being on the water. It has positive mental, physical, and emotional effects on your personal health. Boating truly is good for the soul.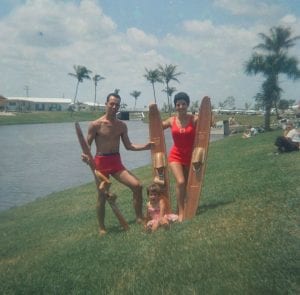 My father, Charlie, says water skiing and other aerobic exercises have positively impacted his health over the years. He began water skiing and diving in college; he water skied competitively from 1953 to 1972, winning 3 trophies in the process.  With his 92nd birthday next year, he says over 50 years of water skiing and diving definitely positively impacted his longevity. Since his double hip replacement, he sticks to walking and light weight exercises. You can still find him on a boat whenever he gets the chance though!
In the digital age we are currently living in, it is important to unplug and recharge. There are many proven benefits that boating has on your health.
The combination of vitamin D and fresh air are medically proven to promote healthy bones and other important bodily functions; it can even improve your mood and emotions.
Boating also appeals to our senses. According to studies, the mere sight of water can induce a flood of neurochemicals that promote wellness. A lifelong relationship with water through boating brings cognitive, emotional, psychological, social and spiritual benefits for people of all ages and abilities.
Boating resets our brain. It triggers a restful state by providing a means to get outside of daily routines. This allows our brains to reset, think beyond the current circumstances, and connect to something bigger than ourselves.
Boating is awe-inspiring.  Awe is the emotion that helps us get outside ourselves and is uniquely tied to meaning, purpose, compassion, and self-worth. Water is one of the best sources of wonder, and boats of all types allow us to experience this awe.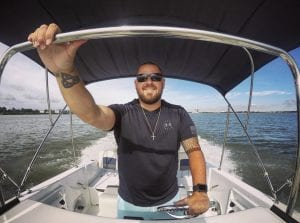 One of our club's members, Mike Gunter, told me about how boating has benefited his life. "Joining Freedom 5 years ago literally changed nearly every aspect of my life.  The joy of being on the water is absolutely unparalleled.  The things I've gotten to see, places I've been, sandbars I've beached at, islands I've accessed, fish I've caught, restaurants I've docked at, wakes I've skied, sunrises and sunsets I've watched, and shorelines I've cruised along are endless and have created a lifetime of memories.  Not just for me, but for my children, friends, family, and associates.  The ease in which I can access a boat is truly laughable.  The club maintains them, cleans them, preps them, and puts them in the water.  I average 70-80 days a year on the water because of the ease in which I can get on a boat.  Because of FBC, I've developed a passion and love for all things outdoors, all things Florida, all things water.  I live to be outside now.  When I travel, I purposely go to places that have other clubs so I can use reciprocals and go boating in those locations as well.  I've taken boats out in the Keys, West Palm Beach, Tampa, Clearwater, Sarasota, Siesta Key, Daytona, New Orleans, Austin, Houston, Boston, Chicago, Maine, Rhode Island, and others.  The staff is incredible, always ready and willing to help, with smiles on their faces.  FBC is now rooted into the fabric of my life, water is part of my DNA, and I will be a member for life." 
Boating provides quality time with family and friends, as Mike pointed out. A big factor that contributes to your healthiness and wellness of life is happiness. People often obtain happiness from their social life. Medical studies have shown strong social lives results in happiness, which relates to longevity, healthier eating habits, less stress and much more.
Boating promotes play and creativity.  Stress inhibits creativity and play releases endorphins; aquatic activities are a source of play, which is a part of the body's natural "feel-good" chemicals.
To conclude, boating fuels passion.  Maybe you have a passion for boating, nature, or being on the water. Either way fueling your passion contributes to your overall happiness.
Check out Discover Boating's video on "The Blue Mind" here: https://www.discoverboating.com/your-brain-on-a-boat
Sources:
https://www.nmma.org/press/article/22125