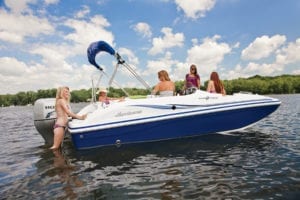 Florida has long been recognized as the Sunshine state but it could just as easily be known as the Coastline state.
No matter where you live in Florida, you are never very far from the water.
Certainly, people have been flocking to Florida for generations to take advantage of the legendary beaches and warm sunshine. The unanswered question: How many people who live in the Sunshine state fail to take advantage of the abundant, magnificent waterways?
The statistics are striking: The Florida coastline, at 1,350 miles, dwarfs the coastline of California, at 840 miles. Of course, when it comes to enjoying Florida's waterways, the coastline is only part of the story. In addition to numerous lakes and rivers, Florida's Intercoastal traverses the entire eastern coast.
To live in Florida and never go out on boat would be like living in Vermont and never viewing the fall leaves or living in Maine and never eating a lobster.
Nothing but a missed opportunity.
When is the last time you enjoyed an afternoon out on Florida's beautiful waterways? What is stopping you?
In many ways, modern technology and improved equipment are revolutionizing boating, making it easier and safer than ever.
More women have taken up boating in recent years, eager to take the helm and experience the thrill of the rushing wind and fine-mist spray.
Boating is a way for people to relax, connect with friends and create powerful memories. It is also a way to experience the world from a totally different perspective.
And no place in the United States is more conducive to great boating than Florida. At Freedom Boat Club we want you to be able to experience the joys of boating without the investment or hassle. We want you to anchor your worries away, and fun doing it. Visit us at www.freedomboatclub.com to find out more…. What are you waiting for? Your boat is ready.