Work On a Boat..
Most people are familiar with the terms "recreational boating" and "pleasure boating". But who ever said you can't mix a little business with pleasure?
In fact, there are many benefits.
 For years, entrepreneurs and business leaders have used a round of golf as a great venue to make sales and close deals. For people who have access to great waterways, there is another increasingly popular option: taking prospects and clients out for a breezy, sun-filled, day on a boat.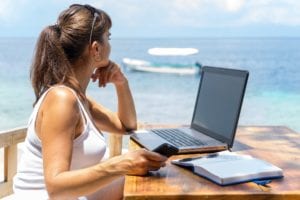 Whether it is a cruise down the Intracoastal, lunch on a quiet island, or an afternoon of tubing, skiing or wakeboarding, mixing business with a little pleasure boating can pay dividends.
And the fun of mixing boating with a little business is not limited to entertaining clients.
As owner of Freedom Boat Club Jacksonville, I see a variety of ways members use boats to benefit their work lives. Some take boats instead of cars to commute to the office. Some hold staff meetings on boats. One member, a church pastor, will take out a boat to seek some peace and quiet and inspiration as he works on his sermon.
I enjoy mixing work with pleasure as well. On weekends when I am rafting out at Fort George, I bring my laptop to use in the morning while I relax with a cup of coffee.
It is a peaceful way to address some work issues as I start my day. And I can't imagine any CEO has a better window view.
http://www.youtube.com/watch?v=D94IG0iMuBs&t=12s